Pool Inspection Process : A CPO®'s Guide – Part 1
In order to audit and evaluate a swimming facility, a Certified Pool Operator® must conduct a thorough inspection of the pool and premises. While not all swimming facilities carry out the same pool inspection process, there are some basic guidelines that can be customized for each unique swimming facility. As a Certified Pool Operator®, you should be responsible for the inspection process for your facility. Your facility may not be required to have all of the items mentioned below but you do want to always comply with all applicable codes and regulations.
Pool Condition
The pool inspection process starts with the pool's overall condition. A swimming pool's shell should be finished with a smooth, yet slip-resistant surface material that is water-tight and easily cleaned. The pool deck and all floors leading to the pool should be slip-resistant as well. There should be no cracks in the shell except structural expansion joints (If applicable). Coping stones and tile lines should also not be cracked, loose, or chipped. For indoor pools, the ceiling over the pool should also show no signs of deterioration or damage. Benches, tables, and chairs should be secure and in good repair.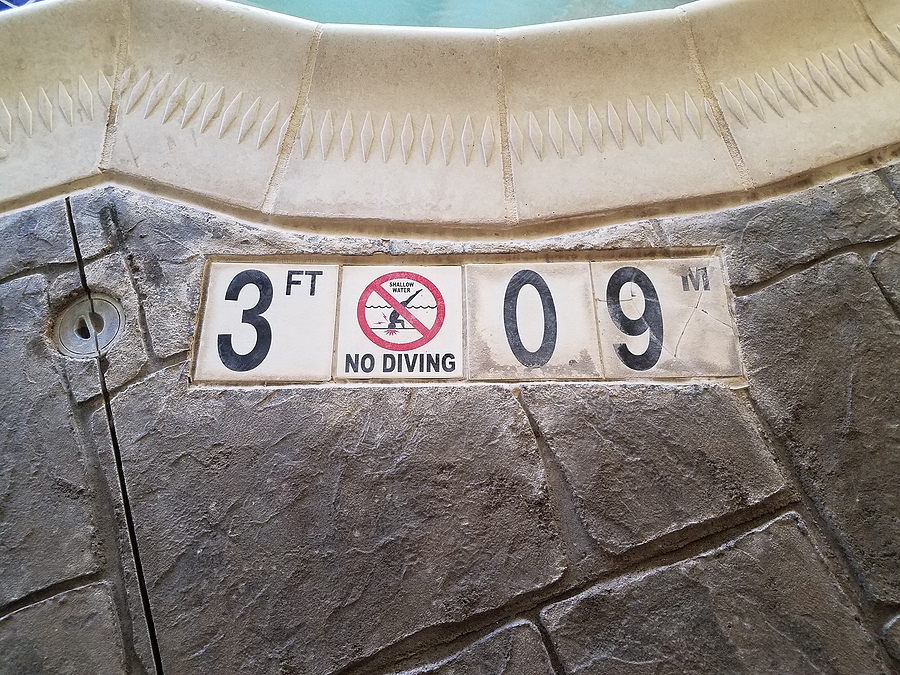 Pool Markings & Signage
Depth markings should be conspicuously marked at or above the water surface on the vertical wall of the pool and on the edge of the deck. Depth or drop-off lines and buoyed lifelines should be correctly positioned in the pool to indicate a sudden change of slope. Steps, treads, ramps, ledges, and other protrusions should be marked with a contrasting color coating or tile on both the top and vertical rise. All piping, filters, and components that are part of the mechanical operating system of the pool should be labeled, tagged, or color-coded. Appropriate signage and warnings should also be affixed outside of equipment and chemical room doors. All markings and signage should conform to all legal codes and depth markers must be visible in appropriate measurements.
Emergency phone numbers should be posted next to an emergency phone, as well as directions to the facility and other pertinent information that could be conveyed to a 911 operator in the event of an emergency. Pool rules/capacity and warning signs should be posted in a visible area and enforced properly. Diagrams and operating instructions should be posted in the pump rooms and all manufacturers manuals kept on file and readily available. 
Pool Equipment
A large portion of the swimming pool inspection process concerns pool equipment. Suction grate covers should be securely and properly fastened. The covers should be consistent with the Virginia Graeme Baker Pool & Spa Safety Act. The swimming pool's circulation system should be properly plumbed so it provides uniform distribution of water throughout the pool. A hydrostatic relief valve should be installed on in-ground pools in areas where the ground freezes or high groundwater tables could cause a problem. Pools can be covered with an insulating pool blanket when not in use to maintain heating.
Skimmer weirs, equalizer lines, skimmer baskets, deck covers, and flow adjustment control plates should all be present and in good repair. All ladders, backstroke flag stanchions, guard chairs, rails and treads, deck plates, and other deck equipment should be secured tightly in place. Towel and equipment hooks should be installed in a way that does not present a hazard to those at the swimming facility. Ground fault circuit interrupters should be installed on all electrical outlets in the pool, locker rooms, and other wet areas of a swimming facility. All plumbing throughout the facility should be checked for drips and leaks. Starting blocks should be located in a depth of water that meets local, state, and federal requirements. Starting blocks should be removed when there is not a competition in progress. 
The surge chamber should be properly sized and in good repair. The flow meter should be operational, accurate, and located on an eye-level return line. Water circulation systems should uphold the proper rate of circulation for the expected user load. The recirculation pump should be properly sized according to the manufacturer's pump curve. Pool pumps should be self-priming or located to eliminate the need for priming. Air pressure valves should be installed on all pressure filter tanks. Valves and piping should be provided on multi-filter systems to isolate individual tanks for maintenance. The filter tanks should be positioned to allow for accessibility and proper air circulation. The total filter surface should meet the recommended design flow rates. A sump pit or backwash holding tank should be installed and properly sized to prevent flooding during the backwash process. Pressurized filter tanks, hair, and lint traps should be properly sealed. Finally, all influent and effluent pressure and vacuum gauges should be accurate and operational. 
Safety Equipment
Safety should be a focus of the pool inspection process so all safety equipment should be in working order. Personal safety gear like masks, goggles, face shields, splash guard aprons, boots, respirators, gloves, and CPR pocket masks should be made available to staff who have been instructed on their proper use. Emergency freshwater drench showers and eyewashes should be available for anyone handling chemicals. Emergency exit doors should be unlocked and crash bars operational. An alarm should sound whenever the emergency door is opened. Backstroke flags and support stanchions should be placed the proper distance from the pool edge. 
Swim lanes should be a minimum of seven feet wide, ten feet is ideal. Targets should also be provided in alignment with swim lanes. All floating lane lines should be secured with recessed hooks and stored on a reel when not in use. 
A clearly labeled emergency shut off switch should be installed on the pool and spa decks. Fully operational fire extinguishers should be placed in visible locations around the facility for quick access. In steam rooms, a safeguard should be installed to prevent users from accidentally coming into contact with the steam head. There should also be a protective railing around sauna heaters. 
Rescue equipment including rescue tubs, ring buoys, extension poles, shepherd's crooks, backboards, rigid cervical collars, head immobilizers, and straps should all be readily available and in good repair. Lifeguard chairs should be elevated and placed at appropriate locations around the pool. All pools should also be handicap accessible and in compliance with the ADA and barrier-free design requirements.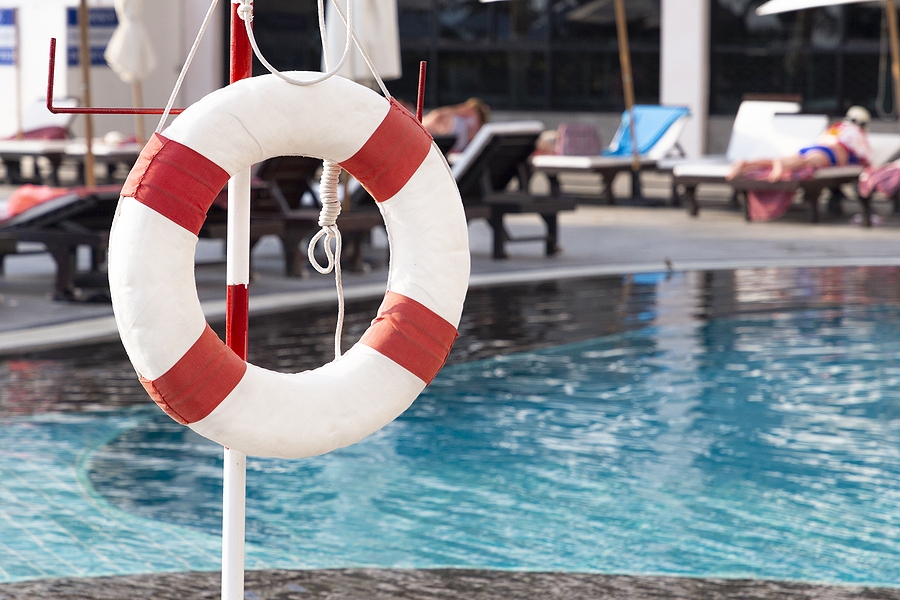 Learning The Swimming Pool Inspection Process
Keep in mind, this is only part one of our pool inspection process guides. To learn more check out the upcoming part two or speak directly with our experts. At Pool Operation Management, we offer professional swimming pool inspections for both residential and commercial pools, pool operation consulting, and can even act as an expert witness in pool-related legal cases. If you are considering becoming a pool inspector, we also offer award-winning CPO® certification courses to give you the most comprehensive education in everything involved with pool operation.
Over a two-day course or during online training, our experienced professionals will not only help you get certified, but you will acquire real-world knowledge to aid you in your career of pool operation. To start your CPO® certification courses or use our many services, contact Pool Operation Management today.