Pool Operator Certification | Keeping the Records Straight
Are you planning on getting a pool operator certification? Then you should know that keeping records is an essential aspect of a pool operator's everyday duties. Record keeping helps organize and centralize all of the information necessary to properly operate an aquatic facility. Good records help illustrate how an aquatic facility operates, reduces wasteful spending, ensures pool/spa safety and reduces liability to the facility. Going over the basics of record keeping is a great jumping off point for anyone preparing to get a pool operator certification.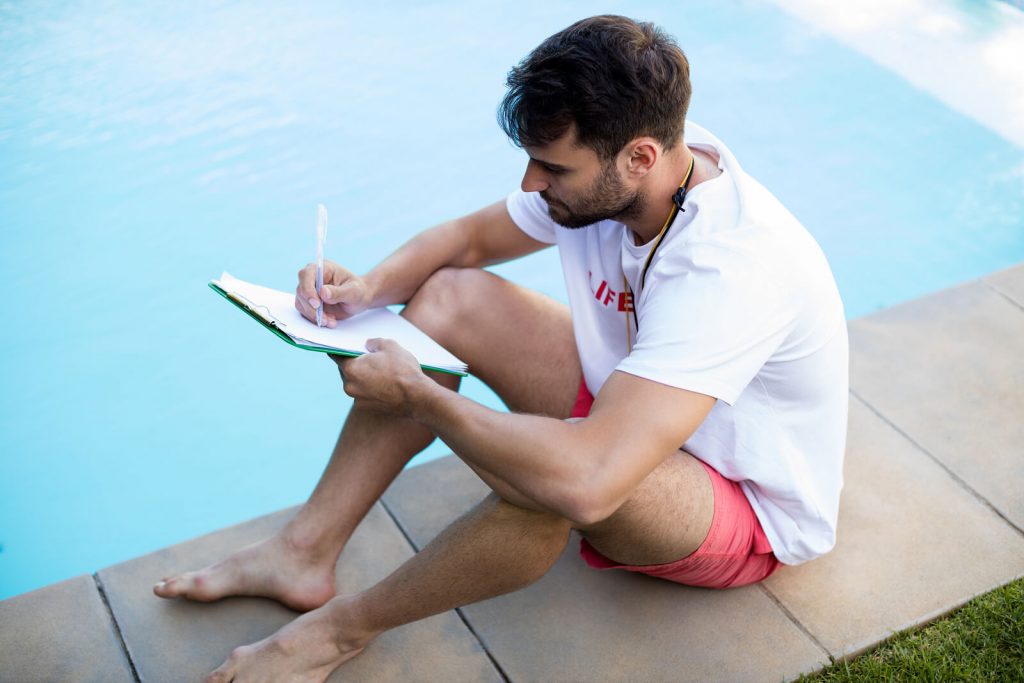 Legal Protection
Proper record keeping plays a big part in many management operations of an aquatic facility. Records are required to protect against potential lawsuits and can be useful while defending against a lawsuit. In order to operate an aquatic facility the right way, all pool operations must be carried out on time and recorded precisely. Diligent record keeping allows pool operators to account for any day in the case of a lawsuit.
Types of Pool Operation Records
In order to evaluate and control how an aquatic facility operates several different types of records must be kept. These include –
Supervisor's Reports

Incident Reports

Maintenance Records

Training Reports

Staff Records

User Load Logs

Water Chemistry Logs
Every facility should record all key events involving pool and spa operations.
Why It's Important
Proper record keeping is essential for a myriad of reasons. In addition to helping provide legal defense in the event of a lawsuit, it helps a facility comply with all governmental safety and sanitation requirements as well as documents any injury that occurs. Records also play an important role in the business side of managing an aquatic facility. Maintenance records, opening and closing checklists, inventory, and training schedules help management come up with a budget. While safety and sanitation are the highest priority, the aquatic facility still needs to make a profit to remain operational.
Daily Operations Records
The most basic, yet required aspect of record keeping is the continuous recording of daily operations. Each day, pool water chemistry must be adjusted to standard requirements and recorded.  You will be documenting that all suction outlet covers are in place and all safety equipment is functional. You will also record the water clarity, gauge and flow readings each day. The local laws and regulations that dictate pool operation change from facility to facility, so it is up to management to develop a daily checklist that covers every requirement.
Opening and Closing Checklists
When opening and closing a pool, unsafe and unsanitary conditions should be recorded and corrected before anyone enters the pool or spa. If the issues can not be corrected before opening, no one should be allowed access. The following checklist can serve as a jumping off point for opening and closing a facility, but regulations differ from place to place.
No one is in the pool, bathrooms or changing areas
Safety and Rescue equipment is in place and functional

Suction drain covers are securely in place and fully intact

Ladders and handrails are in place and secured

All gates operate properly

Lockers and restrooms are clean and furnished with the proper amenities

Pool and spa rules are in place and visible

There is the required deck clearance around the pool or spa

No debris has settled in the pool or spa

All underwater lighting is functioning properly
Again, this is just a foundation, you will learn much more while getting your pool operator certification.
The Right Place For Your Pool Operator Certification
You can learn from the experts about pool safety and management. The CPO® certification class is a great start to becoming a pool expert. Pool Operation Management's award winning CPO®  certification courses train you how to properly operate a swimming pool in the most energy-efficient way. Our two-day courses offer a wealth of information and training in everything from pool chemicals, to energy conservation to risk and liability. For the very best in pool operation, contact us today.