How To Improve Swimming Pool Safety
When operating an aquatic facility, swimming pool safety must always remain the highest priority. On top of maintaining a safe water supply and having trained staff on alert, there needs to be a comprehensive list of pool rules posted in plain sight and strictly enforced. There must also be rules in place for swimming facilities with slides and diving boards, as they present unique safety challenges. Posting and adhering to the following rules will help ensure the safety of both swimmers and employees of a swimming facility.
General Swimming Pool Safety
When someone comes to a swimming facility for the first time, they are at the greatest risk for injury. This is why they must be made aware of all safety rules before being permitted to enter the water.
General pool rules may include :
No consumption of food, drugs, and alcoholic beverages

No glass containers in the facility

No diving or jumping from the deck into the pool

No throwing objects in or around the pool

No running, shoving, or dunking  

No intoxicated swimming allowed

No electrical appliances anywhere near the water

No entering the pool without showering

No swimming alone or outside of designated areas

Swimmers must leave the pool and deck area during electrical storms

No swimming without a lifeguard

No breath-holding games allowed
The list of potential rules is endless but you must include all state, federal and local regulations when creating a swimming facility's ruleset. It can also help to include multilingual signage if the swimming facility is in a diverse community.  
Diving Board Rules
Improper diving can result in very serious head, neck, and back injuries, so it is essential to establish rules in order to protect swimmers. No diving should be permitted unless the pool meets all regulations and standards that pertain to diving. Non-diving areas must be clearly marked by proper signage and there should be 'No Diving' symbols spaces out on the deck at intervals consistent with local codes. If a swimming facility does allow diving, all other swimming activities should be stopped in the diving area. All diving equipment must be installed and used according to the manufacturer's instructions. Diving equipment must be maintained an inspected regularly and repaired if an issue is spotted. This is essential to maintaining swimming pool safety.
Some common things cited on diving rules signs are :
Use diving equipment only under direct supervision of a coach or lifeguard

Only dive or jump in a straight line from the end of the equipment

Swim to the nearest pool exit or wall immediately after a dive

Look before diving to ensure the area is clear

Only one person allowed on diving equipment at a time

Multiple bounces are prohibited

The ladder is the only means allowed for climbing aboard diving equipment
Slide Rules
When an aquatic facility has a slide, special precautions must be taken to ensure swimming pool safety. Improper use of a slide may result in serious injury, so it is important to take every safety precaution possible. There should always be proper deck clearance around the slide and proper vertical clearance above the deck and pool edge. Local codes will provide the needed requirements for installation. Slide rules should address the issue of horseplay and slide use should be limited to children based on their height.
In addition to this, typical slide rules include:
Enter, ride, and exit the slide feet-first

Quickly move away from the bottom of the slide after use

Only one person may use a slide at a time

Do not wear glasses on a slide

Standing, stopping, and sliding down headfirst on a slide are prohibited.

Always keep hands inside the slide.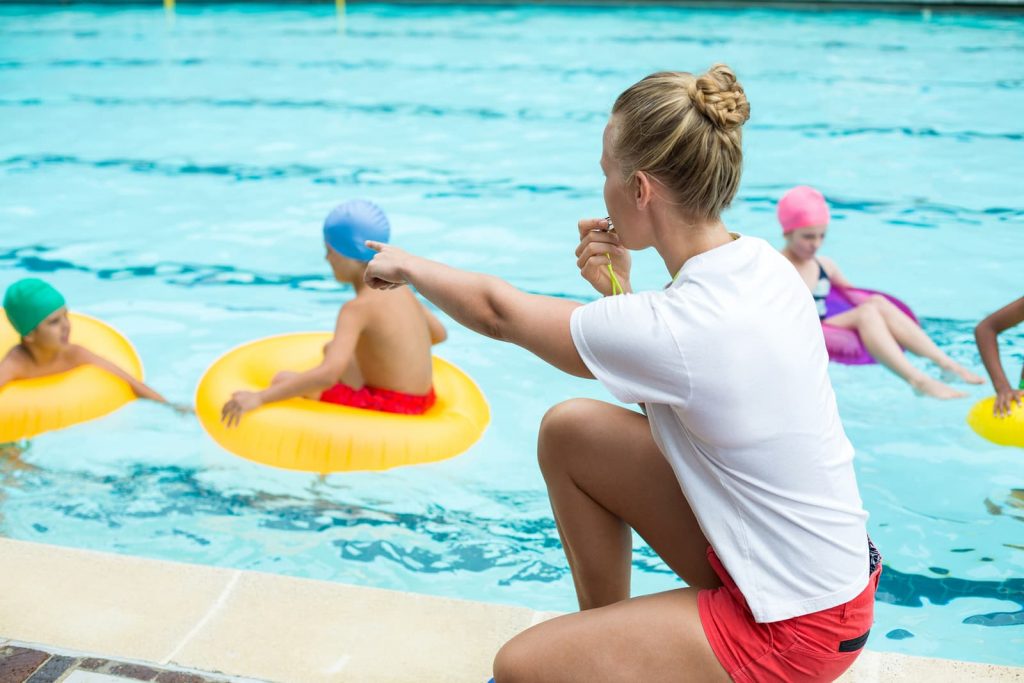 Maintaining a Safe Facility
The best way to understand swimming pool safety is to become CPO® certified. You can learn from the experts and become CPO® certified at Pool Operation Management. Pool Operation Management's award-winning CPO training courses train you how to properly operate a swimming pool or spa facility. Our two-day courses offer a wealth of information and training in everything from pool chemicals to energy conservation to risk and liability. For the very best in pool operation, contact us today.